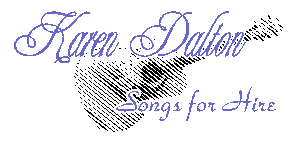 Pilgrimage to Nashville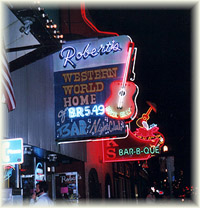 Robert's Western World
In mid-April, I made a pilgrimage to Nashville. The city is just beautiful, with clubs lining Broadway, the main drag. Live music begins at 10:00 am and continues unabated until 3:00 am, with musicians working in four-hour shifts.
This place is steeped in history. Willie Nelson and Kris Kristofferson used to live above Tootsie's. Rumor has it SUNDAY MORNING COMING DOWN was written during that period. Merle Haggard, Marty Robbins, and other country greats have graced the stage at Robert's Western World and other honkey tonks. It's not unusual to see today's stars walking down the street. Buddy Jewell caused quite a stir on Broadway one night.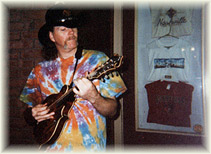 Mike Slusser
Mike Slusser, who used to live in central Pennsylvania, is making a living in Nashville playing on the street (busking) and playing in the clubs. He was kind enough to let me join him by playing outside, and playing inside at Robert's Western World. I am also grateful to friends of his, Dave Foley and Rich Holbrook, for getting me up during one of their jobs at Robert's.