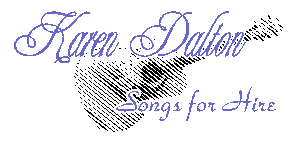 Biography
Karen Dalton is a singer/songwriter from Carlisle, Pennsylvania. She is a member of ASCAP (American Society of Composers, Authors and Publishers). Some of her songs have been performed by area artists, including INURSHA, Julie Moffitt and Jo Braithwaite.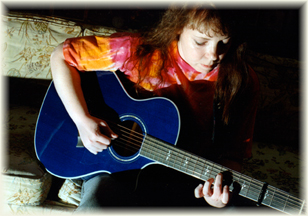 Karen has also contributed songs to the musical Narrow Path, which is currently in pre-production.
Karen has performed in central Pennsylvania, Maryland, New York, New Jersey, and Virginia. She appeared as a coffeehouse artist at the Festival at Little Buffalo, Little Buffalo State Park, Pennsylvania, and was chosen to showcase at MILLENIUM '99, MILLENIUM 2000, MILLENIUM 2001, MILLENIUM 2002, MILLENIUM 2004, central Pennsylvania's premier music conference and symposium.

In September 2000, Karen was awarded a grant in the field of Music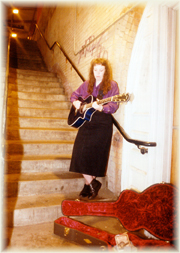 Composition from the Pennsylvania Council on the Arts, a state agency which recieves funding from the Commonwealth of Pennsylvania and the National Endowment for the Arts.
On the strength of her original music, Karen received a corporate endorsement from Breezy Ridge Instruments, makers of John Pearse strings and accessories, in May 2000.
In April 2000, the Associated Board of the Royal School of Music named Karen a winner of the Hedy Robinson Award for achievement in the field of music theory. The Associated Board is the leading international examining body for music with a system of examinations and assessments in over 80 countries.
In March 2001, Karen released the CD "Songs for Hire," which highlights her skill as a songwriter. The disc is produced by Kevin Neidig of Voxology and recorded by Marshall Deasy of Stress Free Studios.
In June 2003, WXPN-Philadelphia played two selections from "Songs for Hire." The song Milky Way recieved airplay on WXPN's Sleepy Hollow program, hosted by Chuck Elliot. Mr. Elliot also played I've Been to Paris on Mr. Shay's folk program.
In November 2003, Karen appeared live on WRVV - "The River." Michael-Anthony Smith featured Karen and "Songs for Hire" on his Open Mike Night show.

Beside the Clear Channel affiliate, WRVV - "The River," "Songs for Hire" has also has recieved airplay on college radio in Pennsylvania and New Jersey, and has been played on Internet radio. The disc was the featured album on "Afternoon Jive" on WDCV - Dickinson College radio in Carlisle, Pennsylvania; selections have also been played on "Homemade Music" on WRSU - Rutgers University radio in New Brunswick, New Jersey. In July 2001, Karen was invited to play live on "Homemade Music." In November 2001, Karen was interviewed by WFDU-FM's Ron Olesko as part of a piece highlighting the Northeast Regional Folk Alliance conference. The disc has also been played on WPRB - Princeton University radio in New Jersey and on Pennsylvania Webcast. Karen was named a top 50 artist by disc jockey Sherri Mullen of PA Webcast for 2002. The ranking was based upon airplay on Ms. Mullen's show.
Karen's most recent endevours include the release of the song, "When Hearts are Mild," which is receiving airplay on Internet radio and college radio, and performing in the Kevin Neidig Guitar Ensemble.
"When Hearts are Mild" is a sequal to the song "Girl Without a Name," one of two songs Karen submitted to the Pennsylvania Council on the Arts' songwriting competition the year she was awarded a grant from that body. "When Hearts are Mild" follows the story line begun in "Girl Without a Name," that of a 13 year-old crime victim whose name was withheld from media outlets. "When Hearts are Mild" continues the story, but from her perspective as a young woman in love for the first time.
In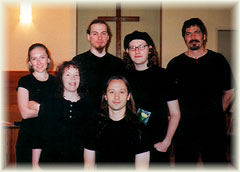 addition to her work as a singer/songwriter, Karen is one-fifth of the Kevin Neidig Guitar Ensemble. She has joined three other guitarists and a bassist to play classical, celtic, traditional and jazz pieces arranged by master guitarist and teacher Kevin Neidig of Voxology. The ensemble, (Justin Clauser, Greg Stevenson, and Kimberly Trout on guitar, and Kyle Poland on electric bass), most recently performed selections written by Bach, Beethoven, and Kabalevsky, as well as traditional guitar pieces at their first performance in June 2004.